I have been searching online for a new bedspread for the past few weeks. It's time to do an overhaul of the bedroom and I'm tired of the leafy green faux paint job I've got. After 9 years, I think it's ok to paint over it, no matter how many hours it took to do. I loved it when I first did it, but I'm so ready for a change!
I have newish furniture that my grandmother gave me for my wedding present 3 years ago that is victorian style cherry, so I want a victorian feel to the room this time. I've been thinking orange, copper, gold, burgundy, or browns for the walls in possibly a venetian plaster finish. That will take just as long (if not longer) to do than the faux painting I've got now. Here are some examples if you're curious:
I want a warm feel to the room where I can have some low lights on and have a warm glow from the reflection of the light off the wall, as you can see in the 3rd pic above. That's why I was thinking a copper or gold sheen of some kind like in the 2nd pic above.
I haven't been able to find a picture online anywhere that I can try and imitate like they show on HGTV programs. The last time I decorated my bedroom, I chose the wall colors first and had a devil of a time trying to find a bedspread to match. This time I'll do the bedspread first and match the paint colors to it. Live and learn, right?
I have one item that is a recent purchase that I want to be able to integrate into the theme of the room, if possible, and that is a black handira that looks like a night sky. This is it:
I just LOVE it! I will turn it sideways and use it as a headboard, but you can see how that would be a challenge to incorporate this in a victorian theme. I got this from
The Red Thread Souk
and it was pricey, but exactly what I was looking for.
I've tried to see if I can go with a night-time theme, or celestial theme, or even dark blues. Nada. No luck finding anything that looks good. If I get the rest of the room the way I want it and find that this just does not fit, I will put it in my craft room so I can look at it as inspiration. I have found some stunning work by quilters, but WAY out of my price range.
This one is by Susan Brubaker Knapp at
Blue Moon River
. It's gorgeous (and sold), but is strictly for wall decoration.
This one is queen sized and available, but $2200. Made by
Crow Woman 88
on her etsy store.
There are many more, but I just can't post everyone's stuff. Just go look up quilts and pick a topic you like and see what comes up! Here's a couple of Halloween quilts I found that I love:
Photo taken by Nancy Chow at Heritage Park from her
Flickr
page.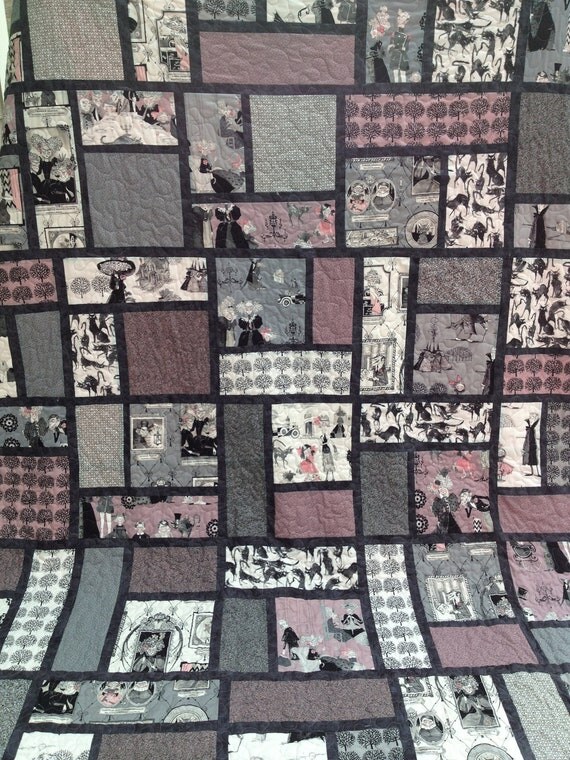 This one is by Kristen Symons and had been in her
Etsy
store. (this one has been sold, but I believe she will make custom quilts if you ask her.)
As you can see, there are a wide variety of quilts available for purchase. I have one on my bed now, that is mostly (of course) green. It's been slightly chewed on by my pups, but it has been well loved while we've had it. Thankfully, it was store bought and not someone's hard, back breaking work that got nibbled on.
I've had a mind to see if I could stick with making a quilt of my own and even have a couple of patterns already. I'm not much for sewing, although I can and have a sewing machine. I have to be in the right mood to want to sit and cut out all that fabric. Even the thought of that makes me cringe. I may just have to stick with knitting and weaving for now... Hopefully, I'll find the right blanket soon.